The Map of Project Area and two accompanying Map Keys included below are identical in content to those included in the e-book version of Fire in the Dark and have been placed here for the convenience of those readers whose e-book devices do not satisfactorily display the map.
MAP OF PROJECT AREA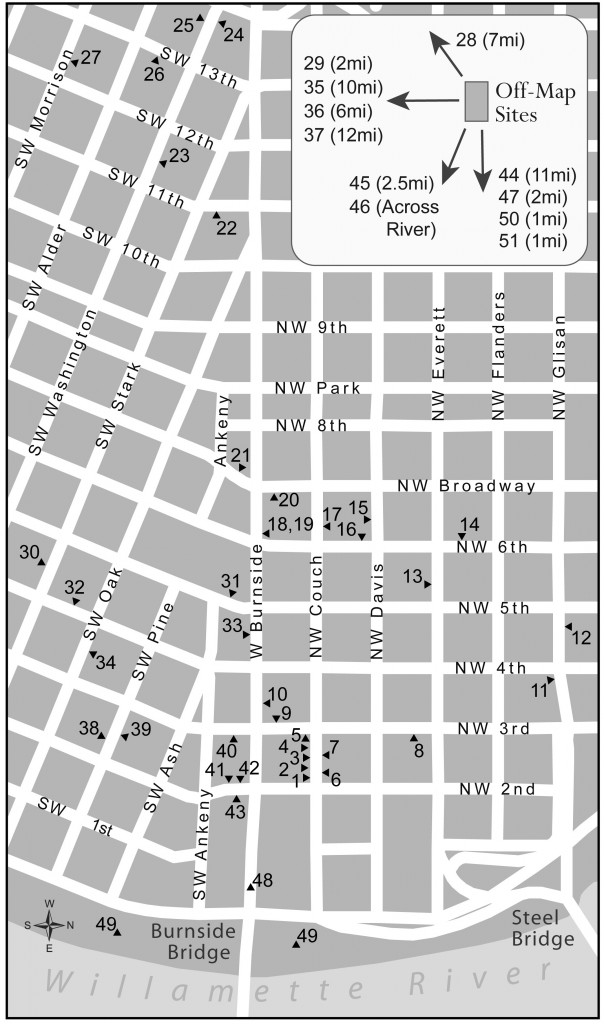 MAP KEY (by name)
See glossary for information about entries, including street addresses.
Miles indicated and corresponding direction of arrows are rough approximations from downtown Portland.
Triangular indicators are accurately placed regarding the side of a block they point to, but they are placed only relatively along that side.
Entries are shown located where they were at the time the stories were actually taking place and may or may not still be located there (e.g. the Danmoore Hotel building no longer exists).
Access Clinic- 31 Addy's- 33 Arlington Hotel- 14 Baloney Joe's (E. end Burnside Bridge) (1 mile)- 50 Beaverton, OR (7 miles)- 28 Blanchet House- 11 Broadway Hotel- 20 Burnside Hotel- 1 Burnside Projects (see Transition Projects) Butte Hotel- 15 Cardinal Café- 10 Clean-up Center- 19 County Hospital (now part of OHSU)(Marquam Hill)- 29 county jail (early '70s)- 38 Danmoore Hotel- 27 De Paul Treatment Centers -25 detox center (see Hooper Detox) Downtown Chapel- 18 Drop-in Center (when on Couch)- 2 Estate Hotel- 7 Foster Hotel- 8 Gresham, OR (11 miles)- 44 Harmony Houses (20th & Taylor and near 39th & Division) (2.5 miles)- 45 Henry Building- 32 Holm Hotel (Chicken Coop Flophouse)- 42 Home Hotel- 40 Hooper Detox (early '70s)- 39 Hooper Detox (after early '70s) (east end Burnside Bridge) (1 mile)- 51 Joyce Hotel- 22 Last Chance Café- 3 Macdonald Center- 17 Marlena's Tavern- 16 Marquam Hill, Portland (medical complex) (2 miles)- 29 Marylhurst, OR (10 miles)- 35 Maryville Nursing Home (Beaverton)- 28 Matt Talbot Center- 4 Milwaukie, OR (6 miles)- 36 Oak Apartments- 34 Old Town Café (Gus's Café)- 5 Operation Nightwatch- 26 Oregon City, OR (12 miles)- 37 Oregon Health & Science University (OHSU)(Marquam Hill)- 29 Our House of Portland (2 miles)- 47 Rich Hotel- 6 Sally McCracken Building- 13 Salvation Army- 43 Saturday Market (below west end of Burnside Bridge)- 48 Sisters of St. Mary of Oregon (Beaverton)- 28 Sisters of the Holy Names of Jesus & Mary (Holy Names Sisters) (Marylhurst)- 35 Southeast Portland (just across river)- 46 Stewart Hotel- 21 Taft Hotel- 24 Tom McCall Waterfront Park- 49 Transition Projects- 12 Union Gospel Mission- 9 Veterans Hospital (adjacent to OHSU)(Marquam Hill)- 29 Washington Plaza Apartments- 23 Western Hotel- 41 Westside Health Clinic/Center- 30
MAP KEY (by number)
1- Burnside Hotel 2- Drop-in Center (when on Couch) 3- Last Chance Café 4- Matt Talbot Center 5- Old Town Café (Gus's Café) 6- Rich Hotel 7- Estate Hotel 8- Foster Hotel 9- Union Gospel Mission 10- Cardinal Café 11- Blanchet House 12- Transition Projects (formerly Burnside Projects) 13- Sally McCracken Building 14- Arlington Hotel 15- Butte Hotel 16- Marlena's Tavern 17- Macdonald Center 18- Downtown Chapel 19- Clean-up Center 20- Broadway Hotel 21- Stewart Hotel 22- Joyce Hotel 23- Washington Plaza Apartments 24- Taft Hotel 25- De Paul Treatment Centers 26- Operation Nightwatch 27- Danmoore Hotel 28- Beaverton, OR (7 miles) - Maryville Nursing Home (Beaverton) - Sisters of St. Mary of Oregon (Beaverton) 29- Marquam Hill, Portland (medical complex) (2 miles) - County Hospital (now part of OHSU)(Marquam Hill) - Oregon Health & Science University (OHSU) (Marquam Hill) - Veterans Hospital (adjacent to OHSU)(Marquam Hill) 30- Westside Health Clinic /Center 31- Access Clinic 32- Henry Building 33- Addy's 34- Oak Apartments 35- Marylhurst, OR (10 miles) - Sisters of the Holy Names of Jesus & Mary (Holy Names Sisters) 36- Milwaukie, OR (6 miles) 37- Oregon City, OR (12 miles) 38- county jail (early '70s) 39- Hooper Detox (early '70s) 40- Home Hotel 41- Western Hotel 42- Holm Hotel (Chicken Coop Flophouse) 43- Salvation Army 44- Gresham, OR (11 miles) 45- Harmony Houses (20th & Taylor; just north of 39th & Division) (2.5 miles) 46- Southeast Portland (just across river) 47- Our House of Portland (2 miles) 48- Saturday Market (below west end of Burnside Bridge) 49- Tom McCall Waterfront Park 50- Baloney Joe's (east end of Burnside Bridge) (1 mile) 51- Hooper Detox (after early '70s & now) (east end of Burnside Bridge) (1 mile)